You Evolving Now Quote/Question of the Week!
However successful you are, there is no substitute for a close relationship. We all need them. – Francesca Annis – Who is your best friend? Why? Today… tell them and thank them! –  Scroll Down to read this week's Blog and get your copy of the best Personal Growth & Relationship Growth "EVOLVE" and "7 Ways to Love"!
Click and watch Andre Young enhance Work/Life Balance and Leadership at a site!
https://www.youtube.com/watch?v=GuC7YJXB4QE
Download the App, YEN Push:
For iPhone Users For Android Users
I'm Andre Young, speaker, author, and Founder of You Evolving Now… A life-enrichment company enhancing work/life balance and personal leadership on-site for Employees, Athletes, and Students; allowing an EVOLUTION in their 4 P's: as People, Partners, Parents, and Professionals! EVOLVE with our various Services, Programs & Packages. You, your Employees, your Athletes and your Students have lives and dreams inside and outside of work and school… the more fulfilled they are in both… the better they will be with and for you!
See more about You Evolving Now's Quarterly Growth Seminars, EVOLVE & Lead Program, 1-on-1 R.E.U Mentoring, and more at the Employee Growth Tab above!!!
Contact: 610-406-1852 / young.andre32@gmail.com
EVOLVE with the You Evolving Now Weekly Blog!!!
Early in life, I didn't know what "Busy" really was… as I was shockingly reminded when talking with my 16-year-old son. I preface this with… I am profoundly aware of the hectic, busy, and productive schedules our children keep … from attending their full-time job of school, to sports, homework, and social lives… however, on these strings of days he had days off of school, no job, and took the Spring season off of sports. Therefore, my response was… "Tired!". I was shocked and appalled all at the same time! As a young man, I remember… as I'm sure you remember, not having much to do or choosing not to have much to do and filling our time with TV, friends, etc. However, as life picked up, we all became more "Busy" and hopefully more productive. In my speaking engagements and seminars, I like to forego the word "Busy" as it doesn't always equate to a positive and doesn't always equal being productive, joyful, and living our best lives!
As we mature, the list that makes us productive tends to grow and mature as we do. Initially, I attempted to wing-it and kept my list in my head and charged full speed ahead into my day; getting things done and feeling physically and mentally exhausted at the end of it all. This sounds like a win, but my mind was scrambled and felt as if there was a tornado in my head of things-to-do, thoughts, ideas, dates, deadlines, and people. I ended those days frantic, but with all of the energy of youth to get up and do it again.
If you are Type A-ish like me… you know the next step was to make a daily list. If you are not doing this; I highly recommend you begin today! I began making a list of what needed to be done in all roles of my life that would equate to success and a most productive day; allowing a sense of pride when I put my head on my pillow at night. Crossing things off of our list has the impact of providing small victories throughout the day, decreased anxiety of having to actually remember everything (making the tornado a bit smaller and more manageable), and can provide order of importance. Note: I switched from calling it a "To Do List" to a "Get To Do List". Success is a language and I am blessed and honored to get to do what I do throughout the day… the business I get to run, my kids I get to raise, the wife I chose and get to be with daily, and the tasks I get to do! Perspective is amazing… If you are struggling or unhappy in your life right now I don't mean to minimize your current situation; the real truth is there are a million people that would be willing to trade places with you right now and we all need to know and honor that! If you are reading this… it means you have a phone or computer and some means to have it… Oh, and you can read; and if you can read you can do achieve almost anything! We don't want our job, our homes, our partners, etc… someone does…  and will gladly take it right now! So, let's me mindful and if you don't like your life… start changing YOU, how you think, how you speak, what you do, and your patterns!
I lived by the list and crossing things off for years and it proved to be effective; crossing off and what wasn't crossed off was transferred to the next day. But, something was missing… an important thing was missing… often leaving me and perhaps you feeling like a robot on auto-pilot; feeling "Busy" but not "Better". Then I found it; something seemingly small but HUGE in its ability to significantly impact our everyday… So, what is it?
The next time you make your daily list of the things you "Get To Do!"… at the bottom, write "My Biggest Accomplishment of the Day!". This simple addition forever changed and positively impacted my every evening. Before we head to bed… writing down or simply recalling our "Big Accomplishment of the Day" allows us a pause to enjoy, celebrate, and process our day's effort; leaving us with a sense of fulfillment, pride, and personal recognition that we beat the day… the day didn't beat us. Perhaps it was a closing a deal, making a deadline, spending time or doing something cool or different with your partner or kids, or simply stopping to make time and take time for YOU! No matter what our "Big Accomplishment" is, the point is we all have one, big or small… and it's up to us to remember, acknowledge, and celebrate it daily! If we don't, who will? Yes, it's great when our partner, our boss, kids, friends, or co-workers recognize us… but waiting on that and allowing that to be our only source of solace is not fair to us! So, start something new… if you are not making a daily "Get To Do List"… start and at the bottom leave room for your "Big Accomplishment of the Day!" and see what it does for you!
Thank You and enjoy your EVOLUTION! Download my FREE app, YEN Push! Remember to allow notifications and EVOLVE in your 4 P's! Get You Evolving Now to impact your Company, Athletics, and School by calling the contact number above!
written by: Andre Young 
EVOLVE your Life, your Relationships, and YOU with Andre Young's powerful life-changing books!!!
https://store.bookbaby.com/book/7-Ways-to-Love  EVOLVE your relationship with the best relationship book out there! These are the 7 things to make or break relationships. YOU do them and your relationship can get better. You both do them… it can get great! If your relationship does not work, 7 Ways to Love provides you peace of mind; knowing you did everything you were supposed to do. After the pain and tears… peace of mind is priceless.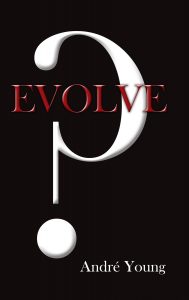 https://store.bookbaby.com/book/EVOLVE2Curiosity didn't kill the cat… it saved the relationship! You are in a relationship with yourself, your partner, your children, co-workers, etc; Stay curious and learn more with a compilation of quotes and questions you've never even thought to ask… ending with do you know your partner's answers, your kid's?