You Evolving Now Quote/Question of the Day & Blog!
---
I Will…____________________ (You complete this statement. What will you do today; allowing you to EVOLVE your life, your relationships, and YOU?)
Scroll down to read today's You Evolving Now Blog! – The Credits of Your Life!
You Evolving Now, LLC is a life-enrichment company focused on positivity, personal, and relationship growth; allowing men and women, students, employees, and YOU to EVOLVE and live the life of your dreams with our Website video content, Life-Enrichment Mentoring Sessions, Adult Division, College Division, Speaking Engagements, Retreats, and more!
EVOLVE with my $5 per month Membership; including all of my website content: Thought of the Week, Monthly Life-Enrichment Video, Monthly Vlog, You Evolving Now in 3, and discounted prices for Retreats! EVOLVE with  Full membership of $24.99 per month; including all of the above, plus 5 Virtual Life-Enrichment Mentoring Sessions, and physical access to our Life-Enrichment Club's monthly Forum and fun community event! See the Member Event Tab! Take advantage of the Couple's Membership Deal: One person pays Full Membership  and the partner pays the $5 Membership taking advantage of Forums, Events, Website Content, but no Life-Enrichment Sessions!
Try Our $5 Online Membership Now!
---
Are you ready to EVOLVE your relationship and YOU in Vegas… July 2018!
Founder & CEO, Andre Young says hello! Go to his YouTube Channel now!
EVOLVE with Andre Young with the 7 Ways to Love Podcast Interview.
---
You Evolving Now Blog: The Credits of Your Life!
You watch a great movie, it has you on the edge of your seat, you are in awe of the special effects, the quality of writing, and storyline. The movie ends and your bummed because you want more, but are in that silent state of reflection. That's a heck of a movie! Then those pesky credits role and everyone gets up and exits the theater or waits for the credits to be over; eagerly awaiting outtakes and more!
Isn't it a shame the credits don't get more respect! Those are all the people it took to make that great movie. It took an enormous amount of effort from each of those hundreds of people to write, design, create, and organize such a gem. Each person played a specific role for a certain amount of time to give you an experience that took your breath away. Your life is the same way! At some point, there will be an end… and the credits will roll. There are so many people and experiences; both negative and positive that have contributed to YOU and your life. You will also be in the credits for the ending of other people's lives. What role you play is up to you!
It's important from time-to-time to intentionally review the credits of your life with insight and gratitude. Who motivated you, inspired you, who kicked you in the butt when you needed it, who was fun, who hurt you and what did you learn? The people in your life and the events you experienced will either make you bitter or better… but again that's up to YOU!
Lastly, intentionally decide what role you'd like to play in the credits of other's lives. The best way to end up on the positive side of this is: be positive, be a Dreamleader (see my 7 Ways to Love Book), challenge them to be their best selves, and focus on fulfilling their deepest need. Those credits wind up becoming more and more important and no one can avoid them… let's make sure they are of quality so you and others can live the life of their dreams! Enjoy your evolution and Happy EVOLVING!!!
written by: Andre Young
READ MORE
---
EVOLVE is a Personal Development and Life-Enrichment book focused on positivity, healthy living, and being your best self in all roles we play as individuals, partners, parents, workers, friends, siblings, son/daughters, etc.! EVOLVE is a compilation of quotes and questions developed by You Evolving Now Founder, Andre Young. These introspective quotes and questions offer an opportunity for clarity, personal development, and enhanced understanding as you get to know yourself and those close to you. Read and live the quotes, answer and live the questions, and EVOLVE!   Only $16.99!
BUY IT NOW
---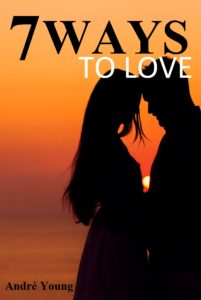 Buy Now and EVOLVE your relationship at: (in Revision and available shortly)
BUY IT NOW
As an author, speaker, and Founder & CEO of You Evolving Now, LLC it's my mission to impact lives and relationships of men and women everywhere; allowing YOU to live the life of your dreams! My 7 Ways to Love shares how to have an EVOLVED relationship with your partner, those close to you, and most importantly, YOURSELF! I am excited to present the 7 key points that prove to make or break relationships and life satisfaction. As you read and EVOLVE, I encourage you to think about the message, ponder my questions, and most importantly live your answers!