You Evolving Now Quote/Question of the Day & Blog!
Success is a lousy teacher. It seduces smart people into thinking they can't lose – Bill Gates – Scroll down to read today's You Evolving Now Blog – Design Yourself!
You Evolving Now, LLC is a life-enrichment company focused on positivity, personal, and relationship growth; allowing men and women, students, employees, and YOU to EVOLVE and life the life of your dreams with our Adult Division, College Division, Speaking Engagements, Couples Retreats, Employee Life-Enrichment Program, video-content, and more!
Can't make the live forums and events?
Try Our $5 Online Membership Now!
---
November 3-5, 2017 and 4xs per year!
To Register and find out more , click the 7 Ways to Love Gold Tab at the Navigation Menu to or simply click here to Buy Your Tickets NOW!
Founder & CEO, Andre Young says hello! Go to his YouTube Channel now!
EVOLVE with Andre Young with the 7 Ways to Love Podcast Interview.
---
You Evolving Now Blog: Design Yourself!
Remember when you were a child… the role models you had? Perhaps it was a sports star, a super-hero, cartoon character, etc… you imagined you were them and literally played it out with your friends and in your daydreams. Your role model inspired you by displaying whichever attribute you held dear, defending themselves and others, and upholding their values. As you get older, it can be easy to lose sight of your role models… as you go through he teen age years when your friends are everything, your 20's when the opposite sex and your idea of success may be everything, your 30's and 40's when you are too busy with your job, kid's, and schedules… only to look up and later in life with, hopefully, with the time and money to enjoy life. I see my fair share of older individuals enjoying the time they've earned, but I also see my fair share who think life has passed them by, given up, or settled for their current existence because it's safe.
If this doesn't sound attractive to you… GOOD! The truth is… you get to design yourself and your life, no matter the age. Sometimes it's difficult to get the ball rolling because you are focused only on the bigger vision. Yes, the bigger vision is the first step and will provide motivation, the second step is actually DECIDING to become, leading to the next… designing yourself! Yes… YOU get to build YOU.
Let's go back to those role models… there are special people all around you. They range from famous all the way to your next-door neighbor. Select the people you admire and the admirable attributes they possess that will add to your life. If I were to pick; I'd select my wife's attention to detail, my brother's ability to enjoy the moment, Lebron James's (pro-basketball player) ability to lead and display greatness, my father's patience, my mother's stubbornness to live HER life, my co-workers ability to "Dreamlead" others every day, an ex-co-worker's ability to get things done without procrastination or complaints… just to name a few. Now that you have selected your models and their attributes… it's time to implement.
Simply focus on one attribute at a time. Perhaps, today or for the week, you will focus on attention to detail, or no procrastination, or being a "Dreamleader" for others… whatever you select… DO! Do in with intent, pride, and purpose; allowing you to EVOLVE into the person you want to be. You'd be surprised how the new YOU will attract success, the right people, and a better life! Enjoy your evolution and Happy EVOLVING!!!
written by: Andre Young
READ MORE
---
  EVOLVE is a Personal Development and Life-Enrichment book focused on positivity, healthy living, and being your best self in all roles we play as individuals, partners, parents, workers, friends, siblings, son/daughters, etc.! EVOLVE is a compilation of quotes and questions developed by You Evolving Now Founder, Andre Young. These introspective quotes and questions offer an opportunity for clarity, personal development, and enhanced understanding as you get to know yourself and those close to you. Read and live the quotes, answer and live the questions, and EVOLVE!   Only $16.99! BUY IT NOW
---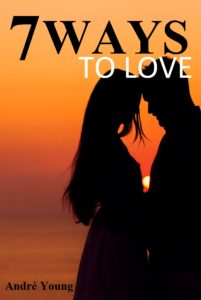 Buy Now and EVOLVE your relationship at: (in Revision and available shortly)
As an author, speaker, and Founder & CEO of You Evolving Now, LLC it's my mission to impact lives and relationships of men and women everywhere; allowing YOU to live the life of your dreams! My 7 Ways to Love shares how to have an EVOLVED relationship with your partner, those close to you, and most importantly… YOURSELF! I am excited to present the 7 key points that prove to make or break relationships and life satisfaction. As you read and EVOLVE, I encourage you to think about the message, ponder my questions, and most importantly… live your answers!