Y.E.N. Life-Tip of the Week!
---
The 25 Lister! If you are in a relationship. Get a piece of paper and list 25 things you love about your partner. Place the paper somewhere they will find it. Stay quiet and enjoy the gift you gave! Note: It's surprising, some of the things you'll write on the list are some of the things you complain the most about. Enjoy Love! – Scroll down to read today's You Evolving Now Blog!
Click YEN App to Download the Free You Evolving Now Push App, Allow Notifications, and EVOLVE!!!
Want to know and understand all that You Evolving Now is? This is the Podcast that says it all! http://goo.gl/FviQw5
I'm Andre Young, Founder & CEO of You Evolving Now, author, and speaker… I invite you to start living the life of your dreams! You Evolving Now, LLC is a life-enrichment company focused on positivity, personal growth, and relationship growth; allowing men and women, students, employees, and YOU to EVOLVE and live the life of your dreams with my various Membership Packages, Website video content, Virtual Life-Enrichment Mentoring Sessions, App with life-tips, Adult Division, College Division, Speaking Engagements, Retreats, and more!
Y.E.N. Membership Packages
Free Membership  – Download, YEN Push App, and receive Free Life-Enrichment Content to your iPhone throughout the week!
Website Membership – YEN Push APP, Member's-Only Website Video Content from Y.E.N. Founder Andre Young! – $5.00 per month!
Full+ Membership  – YEN Push App, Website Video Content, and Membership to the You Evolving Now Club for monthly Forums and fun community Events (local to Berks County Pa) – $24.99 per month!
Full++ Membership – YEN Push App, Website Video Content, Membership to the You Evolving Now Club for monthly Forums and Events (local to Berks County Pa), and 4 Virtual Mentoring Sessions with Founder, Andre Young – $29.99 per month! 
Y.E.N. Virtual Mentoring Sessions Only with Founder Andre Young – $128 per month!
Try Our $5 Online Membership Now!
---
Are you ready to EVOLVE your relationship and YOU?
Founder & CEO, Andre Young says hello! Go to his YouTube Channel now!
EVOLVE with Andre Young with the 7 Ways to Love Podcast Interview.
Take a listen to the my 7 Ways to Love Podcast with the Growth Now Movement at https://goo.gl/KLFHfT
---
You Evolving Now Blog: Keep a Great Relationship… Beat Your Next Temper Tantrum!
Have you ever walked through a store and bumped into the awkward situation of a child having a temper tantrum in the middle of the aisle? You have that immediate reaction… "wouldn't be my child!", you're immediately turned off, you feel the frustration and embarrassment of the parent and family. You do everything you can to get out of that situation as quickly as possible. It's hard to see, hear, and witness the either catering or aggressive response of the parent. Temper tantrums are ugly, but a part of human nature and don't go away after childhood. It carriers over to adulthood and if YOU were being honest with YOU… I'm asking, what does your temper tantrum look like?
That question was really for you to answer and explore without shame or guilt… it's the only way to get to the other side! If you are in a relationship or in your various roles as a parent, son/daughter, co-worker, sibling, etc… you are going to get upset when you don't get what you need, want or think you deserve. How you react will either hurt or help the situation. The key words were need, want, and deserve. Your needs are important and necessary and must be discussed to address, improve, and EVOLVE. Wants are understandable, important, make life more fun, but not necessary. Finally… beware of "I deserve". Truth is… you don't deserve anything. What you are really saying is, "After all I do for you and in this relationship… you owe me____________". Sounds ugly when you say it like that huh? Well, that's what it sounds like to the person you said it to. Perhaps it would be more useful and EVOLVED to express your love, dedication to the relationship, your needs, wants, and explore realistic and fair ways to make it all happen.
In order to EVOLVE and beat your temper tantrum cycle, it's imperative for you to know your pattern! How do you respond when you are angry or frustrated? Equally important to know is anger is not the emotion to pay attentions to… anger stems from hurt. If you are only respond to your feeling anger and not your hurt your temper tantrum cycle will last longer and have a bigger effect on your relationship. Focusing on your anger will continue to increase your righteous pain; allowing you to justify all of the horrible things you have said, done, and are thinking of doing. Focusing on your hurt allows you the opportunity to heal, improve, and EVOLVE!
Most people will speed past hurt, go right to anger, temper tantrum by either explode, withdrawing into silent treatment, withholding love and emotion, then have to deal with the consequences of their tantrum. Once you are aware of your pattern, understand why you are hurt… you now have the opportunity to speed up your pattern and be a part of the solution rather than the problem. If your fights last 3 days… get them down to one; if they last 1, get it to half-day, etc. Truth is… if you share space with someone (emotional or physical) you are not always going to get along and the storm is coming… will you be ready?
Here are a few tips to stop your next temper tantrum:
Take a breath and listen. Everything said and done to you does not require an immediate response
If it is still bothering you… make and take time to explore your offender's WHY. Why would they say or do what they did? How do you understand them as a person? What is going on in their life… or their past? None of this provides an excuse for what was done, but rather a starting point of understanding. Chances are, you have picked loving and great person to be around and share life and time with… if that is true, perhaps they are going through life turmoil (big or small) or you have taken it wrong. If you have not picked a loving and caring person to be around… perhaps it's time to self-reflect and adjust your team!
Share your concern and use my Positive Sandwich. Start with what you like/love about the relationship, then what concern you have, and end on a positive of hoping to resolve. In my newest book, 7 Ways to Love, I dedicate a chapter to the "I's" vs. "We's". Yes, it's important to use "I" statements when explaining how YOU feel, but my rule of thumb is… in a serious conversation, if the amount of times you say "I" outnumbers the amount of times you say "We"… you and your relationship will lose!
Allow the person to digest your information. You have been thinking about this in your head and practicing what and how to say it. But, it's their first time hearing it… let them digest it for a while if necessary.
Lastly, focus on love and relationship building… focus on problem-solving mode… not right or wrong mode. The language you chose to speak at this time will be crucial in you living the relationship of your dreams!
Enjoy your evolution, Happy EVOLVING, and become a You Evolving Now Member today to EVOLVE your life, your relationships, and YOU with my Virtual Mentoring, our Life-Enrichment Club's monthly Forums & Events, Retreats, Video Content, and more at www.youevolvingnow.com !!! Download the You Evolving Now App (YEN Push) for your iPhone today for your daily EVOLUTION!!!
written by: Andre Young
READ MORE
---
EVOLVE is a Personal Development and Life-Enrichment book focused on positivity, healthy living, and being your best self in all roles we play as individuals, partners, parents, workers, friends, siblings, son/daughters, etc.! EVOLVE is a compilation of quotes and questions developed by You Evolving Now Founder, Andre Young. These introspective quotes and questions offer an opportunity for clarity, personal development, and enhanced understanding as you get to know yourself and those close to you. Read and live the quotes, answer and live the questions, and EVOLVE!   Only $16.99!
BUY IT NOW
---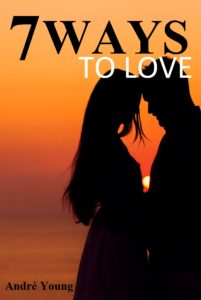 Buy Now and EVOLVE your relationship and YOU!!!
BUY IT NOW
As an author, speaker, and Founder & CEO of You Evolving Now, LLC it's my mission to impact lives and relationships of men and women everywhere; allowing YOU to live the life of your dreams! My 7 Ways to Love shares how to have an EVOLVED relationship with your partner, those close to you, and most importantly, YOURSELF! I am excited to present the 7 key points that prove to make or break relationships and life satisfaction. As you read and EVOLVE, I encourage you to think about the message, ponder my questions, and most importantly live your answers!