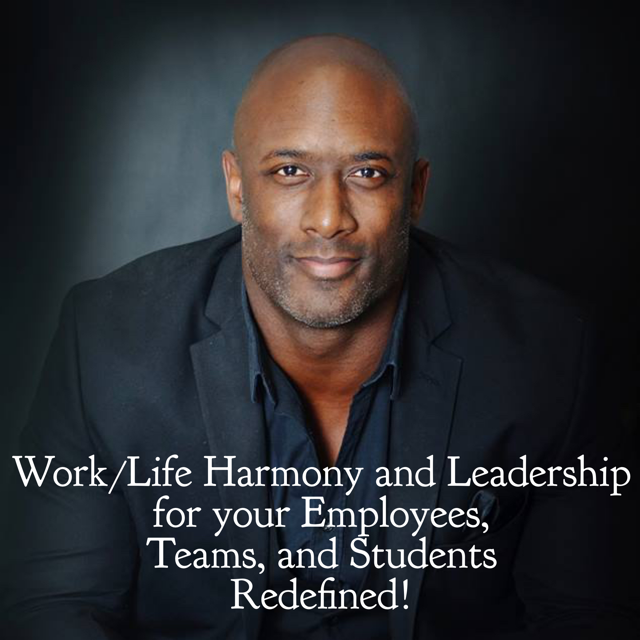 I'm Andre Young, speaker, author, and Founder of You Evolving Now. I worked as a Mental Health Therapist for 19 years, been an employee, business owner, and self-employed, lived in inner-city row homes to  luxury homes, been married, divorced, and remarried, played sports at every level from high school to professional, written 4 books, have four amazing kids, a wonderful wife… and the truth is… no matter where you go, people are the same as they are different and most would like to EVOLVE Professionally and Personally, but are too busy being their defintion of "Busy" to do so. Let You Evolving Now meet your people and Leadership Team where they are; on-site, at work or at school, to enhance leadership and work/life harmony for companies, employees, teams, or students with speaking engagements and leadership programs!
EVOLVE your Company, your Employees, Teams, Students, and your Life with You Evolving Now!!!
Download the App, YEN Push:
For iPhone Users For Android Users
Learn more about You Evolving Now's Impact Services at the Employee & Student Tab Above:
Quarterly Growth Seminars!
EVOLVE & Lead Program!
1-on-1 On-Site Employee Growth Training & Executive Coaching!
Single Growth Seminars!
Leadership Retreats!
---
A short excerpt from my newest book, 7 Ways to Lead, coming out in 2020!
As a leader, you have an interest, a goal, a dream… Great for you! The beginning of anything, although nerve-racking, can be a fun time! It's a time of possibility, vision, ideas, and immediate gratification of things coming into existence that were not there yesterday! Conversely, the end of something can be sad, heart-wrenching, but rewarding; as you recap all you have built, learned, and can pass on. But, as a leader… what about the middle?
Whether your interest, dream, or goal is your job, a relationship, or other personal endeavors… The middle is where real life happens! The middle is where we find out who you really are, what you're really made of, and provides all the opportunities you'll need to make it to success with pride! I learned this all too much as a college football player and this lesson continues to inspire me throughout every day of my life and hopefully yours. During the beginning of the season… you have a vision of success, your goals, and excitement for the opportunity to be great and leave your mark. You train daily, go to camp, go through the grind, and the season begins! You make it through a few games and BAM! You hit the wall… you hit a point where the grind has become monotonous, you begin to lose interest, lose focus, just wanting to get through it, and an average mindset begins to take over with constant complaining about things you were so excited for just a few short months ago.
But fear not… the end of any season is always near… now it's time to pick it up again and make a dash for something meaningful to salvage the season, your pride, attain those goals you laxed on, and prove you are better than an average win-loss record. Sounds a lot like life, huh? Most people go through this same process at their job, in their relationships, and in their lives… only with much higher stakes at risk than a good win-to-loss ratio. The biggest loss is droning through an average existence at work, in relationships, and in life; knowing you had more to offer and the ability to lead your life and the people in it! The EVOLVED individuals and teams learn how to minimize this slump and most importantly… how to maximize what I call "Middle Strength"; allowing them the opportunity to fight, lead, and finish strong!
"Middle Strength" is your ability to stay focused and willing while DOING your company's mission, the vows you spoke at the altar, the oath you made to your team or family on a daily basis…. even on the days YOU don't feel like it. "Middle Strength" involves YOU remaining organized, effectively managing your time, taking care of yourself; knowing when rest is necessary, when to uplift others, being an intentional learner, and possessing the ability to proactively adjust… even when… especially when you don't want to! The new regime of employees, students, recruits, and leaders are coming… and when they get there… what kind of leader will they find?
"As a leader, what do you need to Stop Doing, Start Doing, and Continuing Doing to best impact your Middle Strength?"
written by: Andre Young
Thank You and enjoy your EVOLUTION! Download my FREE app, YEN Push! Remember to allow notifications and EVOLVE professionally and personally! Get You Evolving Now to impact your Company, Athletics, and School by calling the contact number above!
EVOLVE your Life, your Relationships, and YOU with Andre Young's powerful life-changing books!!!
EVOLVE your relationship with the best relationship book out there! These are the 7 things to make or break relationships. YOU do them and your relationship can get better. You both do them... it can get great! If your relationship does not work, 7 Ways to Love provides you peace of mind; knowing you did everything you were supposed to do. After the pain and tears... peace of mind is priceless.
Curiosity didn't kill the cat... it saved the relationship! You are in a relationship with yourself, your partner, your children, co-workers, etc; Stay curious and learn more with a compilation of quotes and questions you've never even thought to ask... ending with do you know your partner's answers, your kid's?
read more