YEN Life – Enrichment Mentoring Sessions
Contact and schedule your Free consultation: Andre Young 610-406-1852
EVOLVE your life, your relationships/s, and YOU with You Evolving Now's Life-Enrichment Sessions with it's Founder & CEO, Andre Young! Take advantage and EVOLVE with my introspective, action-focused, and individually-tailored virtual sessions. From the comfort of your home… meet with me, find out your "Why", and how to life the life of YOUR dreams! My focus is positivity, personal growth, and relationship growth using the basis of my R.E.U. Way: Recognizing Opportunity, Embracing Obligation, and Understanding the Opposition! We will meet once per week, for a 45 minute session, for 4 consecutive weeks.
EVOLVE your relationship as you and your significant other choose my 7 Ways to Love Mentoring Package! We will meet virtually one time per week, for 45 sessions, for 5 weeks! This is NOT therapy, but I have taken my 19 years of being therapist, life experiences, and concepts developed as the Founder of You Evolving Now to create something powerful, different, and helpful! I'm on the side of love and the fact that LOVE is a verb; something you do, not just feel. I have developed the 7 Ways that make or break relationships… lets learn them, apply them, and EVOLVE!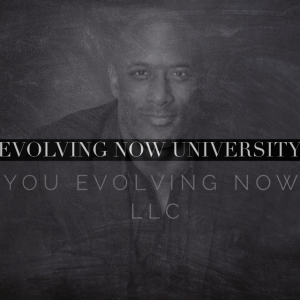 Looking for a great community of people, just like you, to EVOLVE with and get more out of life! Join E.N.U. and EVOLVE with Andre Young in a virtual monthly Seminar/Forum Experience! EVOLVE your Life, your Relationships, and YOU and you begin to live the life of your dreams in your 4 P's: as a Person, Partner, Parent, and Professional!!! Allow the format of celebrating the positives, exploring Life-Topics rarely discussed, and accountability goals & homework impact your life, your family, and your future!
Contact and schedule your Free consultation with Andre Young by scheduling at the Pop-Up!
2019 Schedule!
January 23 at 8:00pm – How to C.H.A.N.G.E!
February 20 at 8:00pm – 7 Steps to Greatness!
March 20 at 8:00pm – How to EVOLVE & Lead!
April 17 at 8:00pm – 3 M's to Time-Management!
May 15 at 8:00pm – How to Manage Your Stress-Drip!
June 12 at 8:00pm – Success… Now What?
August 7 at 8:00pm – Out of Unwise Relationships!
September 4 at 8:00pm – Parents Lives Matter!
October 2 at 8:00pm – The 3 Other Marriages!
October 30 at 8:00pm – Your Job!
EVOLVE further with my awesome Dreamleader Team! I will walk the journey of personal growth and relationship growth with you; allowing you to live your best life… but if you are interested in fitness, finance, real estate, or therapeutic services… my You Evolving Now Dreamleader Team is the best! Your dreams are your motivating force and it takes close to 30 days to start a habit. Ready? Some people are too "Busy" to be better… don't fall into the trap!
EVOLVE with the You Evolving Now Dreamleaders!
Andre Young, You Evolving Now Founder & CEO, will walk with you through your 4-week journey of personal growth, relationship growth, and developing your dream. When and If you have aspirations to develop in other areas such as as your finances, real-estate, fitness, or therapeutic concerns… EVOLVE with our expert Dreamleaders! Your 4-week sessions will continue as scheduled… with you contacting your Dreamleader for further life-mentoring. Let's meet the Dreamleaders!!!
Jon Conover – Finances 
"I help people with debt, life insurance, and investing. Bring me your challenges"!
Stefano Sarge – Fitness
As a fitness professional, it is my responsibility and commitment to safely and effectively guide you towards your health and wellness goals. Let's work towards the best version of yourself! Thank you
Allyssa LaScala – Fitness & Nutrition
Allyssa LaScala is a Holistic Metabolic Coach and Personal Trainer whose mission is to help any desiring individual to reach their health, fitness, or weight loss goal by healing their bodies from the inside out! Her personal battles with Lyme Disease and Adrenal Fatigue fuel her passion for helping others identify the TRUE factors keeping them from living their greatest life possible!
Jorge Diaz
It's my passion to help build community by servicing individuals and families in all of their real estate needs. I look forward to providing  professional service on a personal level!
Colleen Gensemer – Therapist
"As a therapist, I provide short-term solution focused therapy; helping you to move to a place of emotional wellness".
Enhance your evolution with our You Evolving Now Life-Enrichment Club; focused on positivity, personal, and relationship growth Celebrate the successes of other members, discussing important life topics positively, with purpose, and providing perspective during today's chaotic pace of life. It allows men and women of various ages and backgrounds the ability to socialize in a comfortable and non-threatening environment. Our Life-Enrichment Club provides an opportunity to be heard and encourages people to reach their full potential as individuals, significant other, professionals, parents, and all other roles you play! Members attend a monthly Forums to socialize and discuss a variety of life-topics, as well as attending our fun monthly community events (Hump Day Happy Hours, Wing Nights, Bowling, etc.!). You Evolving Now is also active in the community with monthly fun events and assist and our charity of assisting families in transition; providing gift cards for fun community experiences to recently separated or divorced men and women with children.